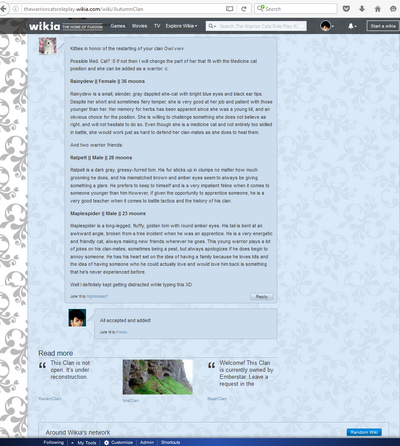 Using AutumnClan as an example, you would first go to the Clan page you wish to join. Make sure you read the Clan's page entirely before you start filling out to make sure your cat is right for the Clan. Copy and paste the form you see at the top of the page into the comment box at the very bottom of the page and describe your cat. See the second image for an example!
Once you have commented, wait for the owner of the Clan to accept and add your cats into the Clan before you can edit the roleplay section and roleplay! If your descriptions aren't descriptive enough or there are any other problems, the owner may ask you to change them before they add your cat into the Clan, so be ready and willing to change!
Ad blocker interference detected!
Wikia is a free-to-use site that makes money from advertising. We have a modified experience for viewers using ad blockers

Wikia is not accessible if you've made further modifications. Remove the custom ad blocker rule(s) and the page will load as expected.