Ferneyes
No image available
Affiliations
Current:
WaterClan
Past:
Loner
Names
Loner:
Kit:
Apprentice:
Warrior:
Queen:
Fern
Fernkit
Fernpaw
Ferneyes
Ferneyes
Family
Mate:
Mother:
Father:
Sons:
Daughters:
Brother:
Sister:
Sunstar
Fallow
Scorch
Russetkit, Blackkit
Songkit (deceased), Larkkit
Flameblaze
Honeydapple
Education
Mentor(s):
Stonepelt(deceased)
Apprentice(s):
None
Post-Death
Residence:
None
Role-Play
Role-Player:
Current role-player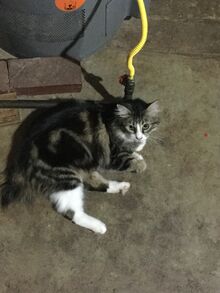 Ferneyes is a beautiful russet-colored she-cat with light colored 'flame' markings all over her fur and blue eyes. Sweet, calm, and kind, she is the one to keep chaos down, no matter what it's about.
History
Before the Roleplay
Fern was born to Fallow, and shortly before her next litter was born to the same tom, still unknown, she was brought to WaterClan, along with her mother. The kit, called Fernkit, was raised to become Fernpaw, then later, Ferneyes, and while she was Fernpaw, her brother, now Flameblaze, and her sister, now Honeydapple, were born.
Roleplay Appearances
Ferneyes is Sunstar's mate, and has had his kits, Blackkit, Russetkit, and Larkkit. Their other daughter, Songkit, died before her first moon of life.
Family
Mate: Sunstar
Mother: Fallow
Father: Scorch
Sons: Blackkit, Russetkit
Daughters: Songkit (deceased), Larkkit
Brother: Flameblaze
Sister: Honeydapple
Trivia
At first, Ferneyes didn't want to be part of WaterClan, and did attempt to run away once, to join her father.
Honeydapple and Flameblaze might not be her full kin, and might of been sired by another tom.